Focus on hot & recent info of Japan animation!
May 01: 10months later, KyoAni incident…
Today is the same day(18th) of Kyoto Animation murder in Jul 18, 2019. In Japan, we have culture of "Tsuki meinichi (Tsuki=month, Meinichi= death anniversary) to think of dead person what the day he/she is passed away. Accurately, we have rules about it but now I'd like to focus on only talking about their excellent work because I hope all "KyoAni" fan remember and keep interest in their work and wait their recover…
This is TV CM of KyoAni in 2012. Even though 30sec film shows their magnetic world, isn't it? Honestly speaking, I hadn't known they broadcasted TVCM and this doesn't have any explanation about their studio only beautiful animation what seems to say "Look it, so understand us clearly!". Let you know response of Japanese;

"Don't make a movie by only 30sec!"
"In all modesty, GOD!"
"Picture taste isn't fit KyoAni, is it? but love it!!"

The title is "Umbrella" and this animation draws old Japanese Umbrella which calls "Bangasa" (=coarse oilpaper umbrella). Bigger than current one and made it by wood and paper of waterproof. How to make it and to use, you can see below article with movie in English!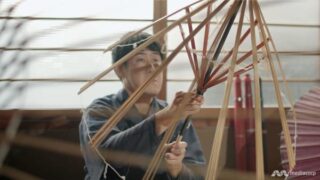 He is one of only 20 craftsmen in Japan keeping a 329-year-old tradition alive
At 34, Noriaki Tsujino left his sales job to move to Kyoto and craft traditional Japanese umbrellas for Tsujikura, Japan's oldest wagasa-maker.
Next 18th (Jun 18th), I try to post something related to KyoAni…
May 02: Evangelion relative feels jealousy about Kimetusnoyaiba
Famous songwriter as Ms.Neko Oikawa says her comment "jelousy about title of Kimetsunoyaiba". All over the world, She was famous of theme song "A Cruel Angel's Thesis" at Evangelion first what song is not too much to say "one of the largest contributor to be popular for Evangelion at the first stage".
She said "I haen't read Kimetsunoyaiba comic and even though anime. Recognize the content dimly but strangely become curious…, the reason must be the title of "Kimetsunoyaiba".What is impact of Japanese font, vibrancy of title sound, so nice. When I saw the title at the first time, "So cool!" I was so jealousy in a spontaneous way."
<quoted from https://ux.nu/JAOmU, translated from dogudogu>
Next, I'll write down of eight possible candidate before seniarization!
May 03: Conjecture real name of Ms.Gotoge Koyoharu
All Japanese or people who speaks Japanese as native clearly understand what pen name is Gotoge Koyoharu(吾峠呼世晴). After finishing the series on this Monday, still now nobody knows her real name and only assumption during net world. Inform you several ideas!
1) Family name must be Goto(後藤). Goto is one of typical Japanese name based on one site focuses on Japanese family name around 371,000people in the land and top35 of all family name. On this name, 後(Go) means descendant and 藤(To) means Fujiwara family who is famous in Heian(平安) era.
Goto-san lives in Aichi, Tokyo, Oita, Kanagawa, Gifu mainly.
<quoted from https://ux.nu/f21Tqtps://ux.nu/JAOmU, translated from dogudogu>
2) Family name must be Toge(峠). Toge of Japanese family name around 3,300people in the land and top3,739 of all family name. On this name is said originally from Hiroshima prefecture.
Toge-san lives in Hiroshima, Osaka, Nara, Hyogo, Wakayama mainly.
It's also said that the first short manga of Gotoge Koyoharu is printed in "Toge" and this name is so rear that's why she should make pen-name!
<quoted from https://ux.nu/f21Tqtps://ux.nu/JAOmU, translated from dogudogu>
3) Given name is Haruko(晴子 / 春子 / 治子) based on one part of pen name.